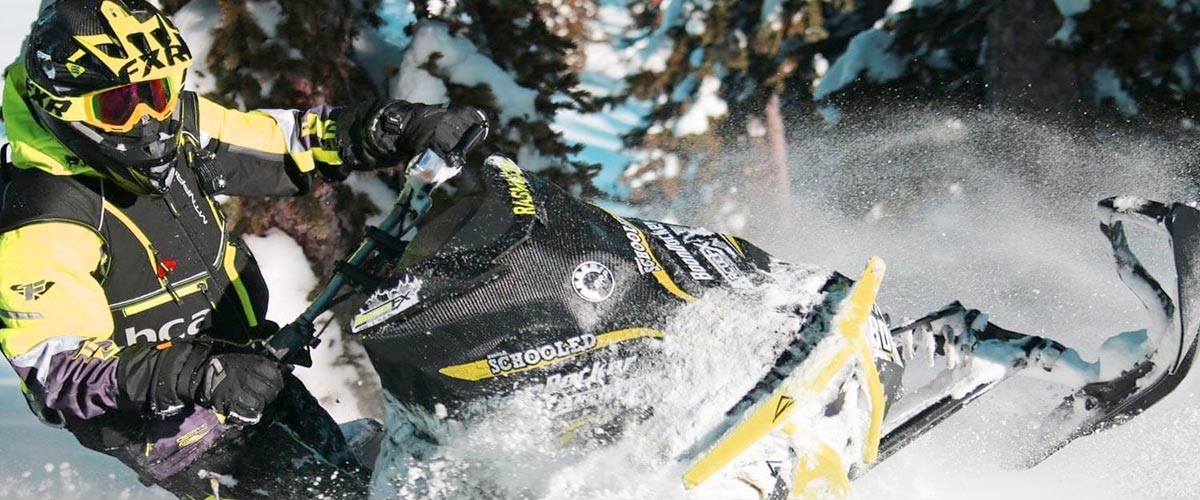 Ride Rasmussen Style offers the ultimate in backcountry snowmobile adventures and instruction.
Our guides have been trained personally by "The Professor" himself, Bret Rasmussen. We offer the experience of a lifetime for anybody who loves riding in technical mountain terrain.
Besides Rasmussen certification our guides have all passed a rigorous certification process attending a 48 hour Wilderness First Responder training, a 36 hour avalanche level 1 certification and a 48 hour avalanche level 2 certification. Ride Rasmussen Style carries only the best avalanche and safety gear to ensure client safety is the highest priority at all times.
We offer instructional rides by certified instructors through the outfitter (s) listed below:
Yellowstone Arctic Yamaha is based in West Yellowstone, MT.  We host clinics daily from January through March/April depending on snow conditions!
The 2018 Ride Rasmussen Style Clinics will headquarter in West Yellowstone, MT.   This institution is an equal opportunity employer.   The clinics are permitted under Yellowstone Arctic Yamaha under a special use permit with the U.S.F.S. Gallatin Custer Ranger District.
We would love to assist you in the booking process. Please contact Keri at getinfo@riderasmussenstyle.com or at 701-220-5829 for dates, availability and payment options.
Why Ride Rasmussen Style
Clinics help you advance your abilities. Don't feel like you will be holding the group back or waiting for the group. It's our goal not to put on a maximum number of miles each day, but to focus on exercising technique to improve your rider ability.
Everyone will be challenged well beyond their limits and enjoy the adventure to the fullest. Clients may choose to participate for as many days as they desire. More than one day is encouraged so riders retain the information better for future snowmobile adventures.  Keep in mind, a week of riding is a very demanding task if one is not conditioned properly. Also, please consider the challenge that the high altitude conditions present and plan according. Many of our international groups will take a rest day at mid-week to recuperate.
Fee structure follows:
$325 per day per person to join with a group. Group size is limited to no more than 10 participants and includes private instruction for each individual from a Ride Rasmussen Style certified instructor.
$350 per day for sled rental, this includes all gas, oil and maintenance. We have available only 2016 model year Summit T3 sleds enhanced for an improved off trail, back country experience. The sleds will be adjusted to fit the rider to maximize his experience.
$50 per day damage waiver to offset any unfortunate damage. This is a $1200 deductible meaning that the client pays the first $1200 damage and no more.
$2000 per day for private groups for those who want the ultimate experience. Invite only your best buddies and build the group with as many or as few riders as you desire.  Private groups may reserve Bret Rasmussen as an instructor for an additional $1,000 per day.
Upon booking, the first day of tuition is collected as a non-refundable deposit. The balance is collected prior to arrival. 
Meals are all extra. We generally eat together as a group at a local restaurant for dinner. Breakfast can be prepared in the kitchen of the cabin or lodge according to individuals tastes. Lunch of course is on the mountain, bring lots of liquids to drink.
Cancellation Policy:  Bookings are non-refundable, however, may be rescheduled to the following season if scheduling conflicts develop.
Upcoming Events:
December 12th – 15th, 2018 – Instructor Guide Clinic 
December 17th – 20th, 2018 – AIARE Level 1 Avalanche Class
January 11th – 12th, 2019 – Women's Clinic
January 25th – 27th, 2019 – AIARE Level 1 Avalanche Class
February 22nd – 25th, 2019 – AIARE Level 1 Avalanche Class
March 8th – 10th, 2019 – AIARE Level 1 Avalanche Class
Elite Backcountry Riding Schools.
We also partner with Driven to host Elite Backcountry Riding Schools. The 2019 locations include:
February 6th – 9th, 2019 – Seeley Lake, MT Clinic (for more information click here)
Book early to ensure your spot. As some dates are very popular we are restricted as to how many groups we can take out each day.